Massachusetts New Hampshire Vermont Maine Rhode Island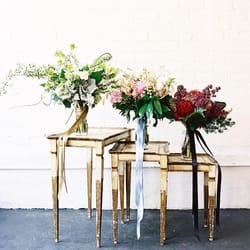 "
It all started at the Goodwill Store in Largo, Florida. Most likely worn by a fashionable older woman to complete her "Sunday Best" outfit. A Sunday or holiday hat was what got me hooked. They reminded me of birthday cakes. The soft, yet bright colors and the cake like forms and shapes, sometimes even looking edible. A hat is the one accessory that can take an outfit from ordinary to outrageous in less then 5 seconds. The 30-40 I had collected, were so beautiful I used them as dimensional wallpaper in my teenage bedroom.

After finding my passion for design, I decided to attend The Fashion Institute of Technology. I feel in love with NYC immediately and began my career in New York's infamous, "Garment Center". After 15 incredible years in the "Rag" industry, I also feel in love with my, now husband. Mike let me know he could never live in NYC or anywhere near it, so I had to be aware of that before we were married.

After we were married I commuted to New York weekly for 2 years. Flying in a Lear jet or taking a bus, it gets old really fast. Since my second child was coming, it was time to be in Vermont full time.


Forward 20 years, Vermont Vintage Rentals, New England's premier vintage rental and styling company was born. Designing and staging different weddings and events, along with involvement in styled shoots and commercial work has been incredible! I don't really consider it a job, I define it as a passionate privilege. I am, "living the dream"! (tee hee) Going all over New England, meeting incredible people and making their events come alive is extremely rewarding, bruises and all.

Offering delivery to Vermont, New Hampshire, Massachusetts, Maine and Rhode Island, keeps things pretty exciting.

Everytime I help someone create their wedding, I treat it like it was my own.I have to say, my wedding was pretty incredible and definetly said, "Joanne", all over it. From chakra bowls at the ceremony to a hot air balloon at my reception, it was totally over the top to say the least. Fresh juices instead of alcohol, Tempe, chilled peach soup in ice bowls with pansies frozen in them. I never thought how hot June 21st could be, and it was. 5 out of 150 ice bowls made it to the tables before cracking. A bouncy house for all the kids and lots more fun stuff. It was my wedding and no one was going to tell me I couldn't have something I wanted. No matter how hard it was to find, I found it and made it happen.

We're here to do as much or as little as you need. There's little you might want, that we can't make happen. If there's a will, there's a way! Here are just a few suggestions.

Most popular are Lounge areas. Beautifully furnished intimate areas where your guests can relax and enjoy conversation with new or old friends. Mismatched chairs would have to come next. Ceremonies or receptions look beautiful with mismatched chairs. All different types and colors, they definitly add so much to a wedding. Another item are Whiskey Barrels. Whiskey Barrels add a unique look to your cocktail area as tables or use old barn boards with the barrels to make a rustic bar. Maybe a specialty dessert table featuring vintage cake pedestals, some vintage cake toppers with old candy dispensers to add some fun. Your guests will love our personalized photo booths. Offering several unique backdrops that can, lots of props, frames, maybe even some furniture. Your guests will love going home with memorable photos right in their hands.

Even if your up at 3 a.m., looking at your 9874th Pinterest page, you can ring , text or email me. No, I'm dead serious. Believe me, I've been there. As I mentioned at the top of the page, your dealing with someone who had a hot air balloon at her wedding and owns a vintage rental company.

Our mission is to make sure you and your guests have a worry free blast!

Whatever you do, have fun!

Joanne
The original "Vintage Junkie"